Description
A traditional 4-button placket shirt in a classic stripe that is just as comfortable on a barstool as it is on the greens.
Super soft 100% Organic Cotton Jersey 
Removable collar stays to keep your collar crisp
Designed in Austin, TX
Made in Peru
Fit & Care
Our shirts are a classic fit- not boxy or too snug, just right. Check out our size guide here or chat with one of our customer caddies.
For reference, a 5'11'', 180 lb man would most likely wear a size medium and a slim fit size large.
To best maintain size and color, machine wash cold and tumble dry low or air dry.
Luke Wilson's Favorite Shirt
Criquet brand partner and 19th hole pro, Luke Wilson, wears his Players Shirt on the course, at the bar, and at the local BBQ joint.
Customer Reviews
Write a Review
Ask a Question
07/31/2020
Brandon B.
United States
Great cut, cool color ☺️
I like Criquet shirts a lot after the first couple times wearing, but washing on cold and low heat makes it look a little haggard for the price.
07/31/2020
David G.
United States
New to Criquet
My wife recently bought me 2 classic players shirts. I love them so much, I bought 5 more a couple weeks later. Keep making as great shirt.
07/29/2020
David S.
United States
Orange crush
Great. No issues at all. Big fan.
07/28/2020
lawrence t.
United States
I stunned at Pebble Beach.
Look good, play good. In truth, I played OKAY. Parred #7 two days in a row as well as the #1 handicap hole. More importantly, I LOOKED good doing it, because I was wearing a Criquet shirt. Let's talk about my duffed shots and hazard play. I LOOKED good doing it. I'm sure all of Pebble Beach Tap Room was commenting about the look I had. There's a good chance, I says.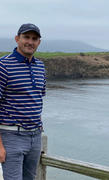 07/28/2020
Mike F.
United States
Great Shirt!
Great retail experience! Fast and friendly!
07/28/2020
Matt B.
United States
Looked and felt great
I wore this out with my wife on our first trip to a restaurant in a very long time. I wish I had taken a picture because it was a really cool outdoor venue. I felt like I fit in perfectly as this shirt was comfortably, relaxed but with a touch of class.